Dick Rohde, WIA, c. 1964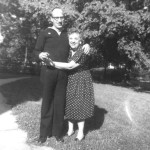 Dick Rohde in Columbus, Ohio, with his momma, Stephanie Keller Rohde, in May 1964. Who says cigars don't make a good diet?
See Dick as he looked after returning to the U.S. after rescue, standing (Dick on R),
or sitting (Dick in middle) with friends, and looking pretty tired in either case.
(Fall 1945, Naval Convalescent Hospital, Asbury Park, NJ (Berkley Cartaret Hotel))
See Dick alone with his cigar in May 1964 (not for the faint of heart).